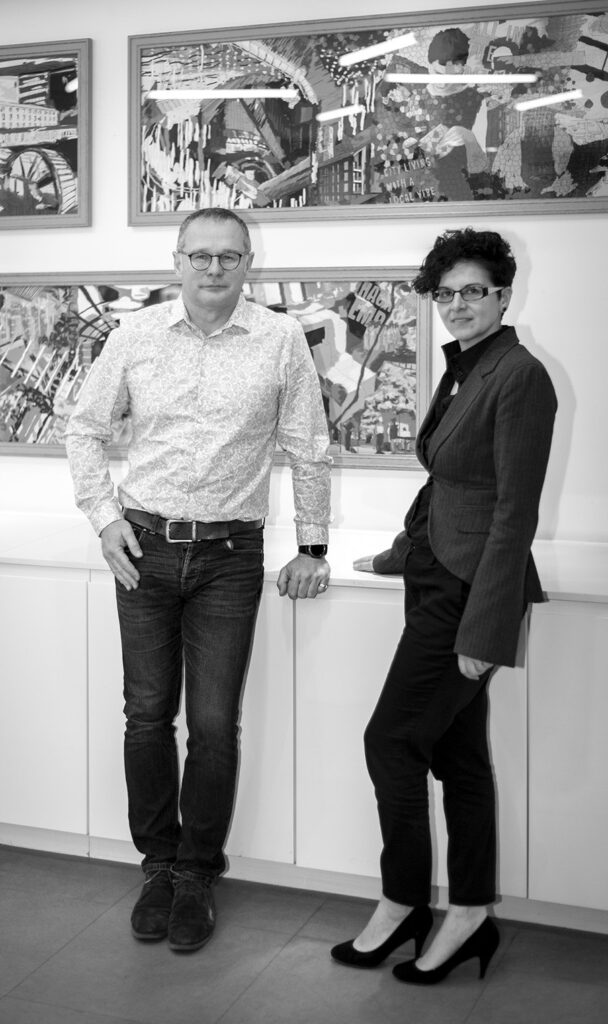 Introduction
IKON is an architectural practice offering professional services to clients nationwide. Our core discipline is architecture alongside which we provide interior design, project management, principle designer and master-planning services.
Our expertise
One of IKON's specialisms is delivering highly serviced buildings including healthcare facilities within the public and private sectors. Building on the business founders' extensive knowledge and expertise in healthcare architecture, a dedicated healthcare team delivers schemes within the acute, mental, primary and community health sectors. We offer healthcare planning, business case writing and estates strategy consultation services.
Our coverage
IKON architects operate from three offices in the UK – Leeds, London and Manchester – supporting a national portfolio of work. We pride ourselves on our professional approach that is personal to our clients.
Our values
We care about People – Places – Planet in equal measures and our aim is to strike a fine balance between them all. We feel strongly the responsibility of our work to create spaces that are built for the present from the lessons learned in the past and with foresight about the future. We strive to enhance people's experience of the built environment, create spaces respectful to their natural setting and minimise the impact that our work has on the environment.
Our approach
Every project is an opportunity and a welcomed challenge to deliver a modern, innovative and sustainable design that meets the client aspirations, budget and timescales. We are passionate about providing personalised solutions to our clients after listening and understanding their requirements.
Contact Us
We would love to hear from you and see how we could help you and your organisation.
Nigel co-founded Ikon Architecture Limited, as the next step in his long and successful architectural career.
Over his 25 years career in the industry, Nigel has worked in several different architectural practices building a wealth of experience and expertise. His portfolio includes multiple schemes of various sizes within many sectors mainly healthcare, extra care, care homes, secondary education, residential, commercial, mixed-use developments and master-planning.
Passionate about the opportunity design offers to make a difference in how we all experience space, Nigel has a hands-on approach that allows his work to have a direct benefit to others. Routed in his younger years when working as a support worker in a Children's Homes, and with his partner a long-serving member in the NHS, Nigel has developed a close relationship and understanding of designing for healthcare. Designing for all sectors within healthcare, and care architecture, in general, is one of his areas of specialist knowledge delivering projects for the public and private sector.
Nigel's strength is in project and people management. With a positive approach to understanding people whether they are clients, end users or colleagues; Nigel attributes have resulted in long term successful business relationships with clients, commissioning repeat work as well as building a trusting collaborative team around him to deliver the projects and meet the client expectations.
Tania co-founded Ikon Architecture Limited, as the next step in her architectural career embracing the opportunity to continue making a difference. She has always felt responsible, yet privileged, how her work as an architect affects the way a building environment is experienced, driving her to empower a positive effect on peoples' lives through her work.
Over her 15-year career working within architectural practices of various sizes, Tania has built a wealth of experience delivering projects within a number of sectors and procurement routes. Past projects of hers contain new build and refurbishment schemes within the educational, healthcare, commercial, leisure and residential sectors including bespoke houses for one-off clients.
Sharing the same passion for healthcare architecture as her co-founding business partner Nigel, Tania has acquired specialist knowledge and expertise delivering acute, community and mental health facilities. In line with her values, Tania always aims to design and deliver a place of healing that speeds up patient recovery, improving clinical flows and increasing efficiencies for her client.
She is strongly motivated to keep up with technological and architectural advances, whether it is within healthcare or other sectors, to continue creating sustainable and modern environments for the future.